Greetings to everyone who reads this post! I have to tell you some wonderful news! =]
How did it all start?
Tonight I went into notifications and saw that I had the title to call myself "Supporter" for Olin month! It's just incredible! I don't believe myself.
The same notification:

What have I done with my account?
Most likely you have already noticed that I have renamed myself from "CreatorsStudio" to "X-ManOfficial". Now I'll explain why I did it.
I created your account with just such a pseudonym, because I originally planned to do creative work with my friends. I hoped that together we could do a lot. And so I create an account "CreatorsStudio", ask my friends for help and they refuse me. I abandon my account for 1.5 months and already in January 2021 I return and decide to comprehend new peaks on my own. By the way, at the moment only I am engaged in the creation and promotion of this account.
A little later, about 2 months later, I call myself X-Man, but I couldn't change my nickname to a new one, because this requires the status of "Supporter". I set myself an icon and a cap with the image of X-Man, but officially for 1.5 years my account was called differently.
Backup account:
Some time after creating this account, I created another one: XManOfficial. It was planned as my backup account, to which I will transfer all my tracks and conduct activities there. Later I changed my mind. Now it serves only as a backup account, to which I will transfer all my creativity in case something happens to the main account and for a small increase in ratings under my tracks. 8)
What else have I changed besides my nickname?
All other changes are temporary and I will have them only for a month. These include the shape of my avatar, as well as the color of its edges (this is a very cool addition). I love purple and don't like crooked shapes (I'm a perfectionist). That's why I put purple edges that stylishly match the avatar! And the shape will be a square with round corners. I love it! 😊
And most importantly, the "S" icon. It will also only be valid for the duration.
A little other information:
The validity period of the "Supporter" status is from June 25 to July 25, 2022. Once again, I am glad of such an event, it is very unusual for me!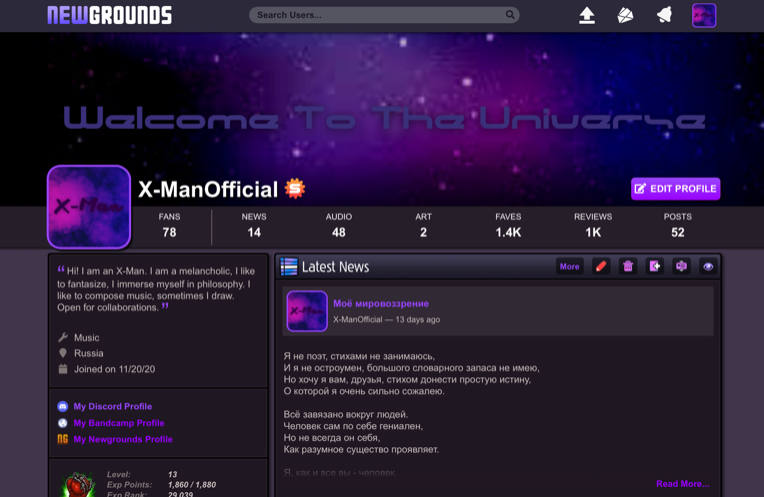 Thank you to everyone who read this post and was happy for me! X-Man was with you! Good luck and health to you and your families! Bye!